I hope you enjoy this post and remember to hit the share buttons to let all your friends know – we're trying to spread the word of our website.
1. Rinse first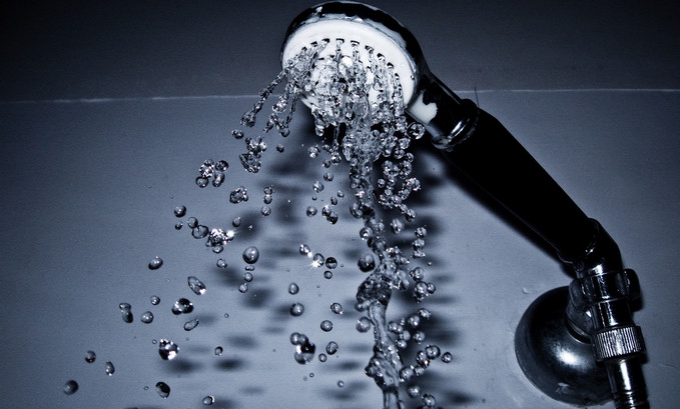 First things first, get rid of all that excess grime and hair by giving your tiles a quick rinse. This is easy if you have a detachable showerhead, if not, use a bucket. Start from the top so all the dirt washes away.
2. Wash the shower curtain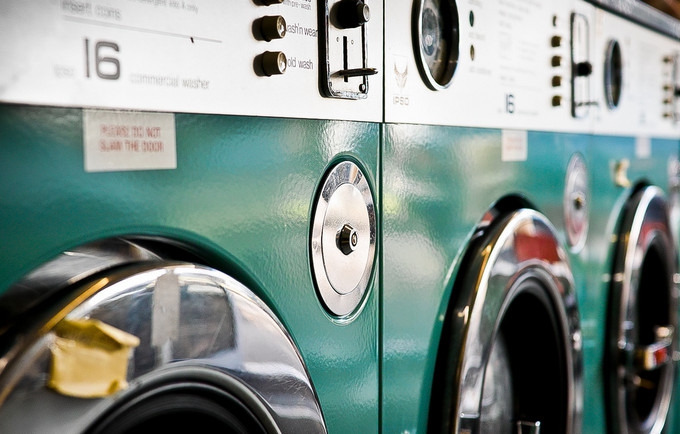 Chuck your plastic curtain in a washing machine with a few old towels. The towels will help to scrub away any build-up of mildew and grime. Don't put your shower curtain the tumble dryer, this may damage it. Instead, hang your curtain, preferably outside to dry naturally.
3. Clean it naturally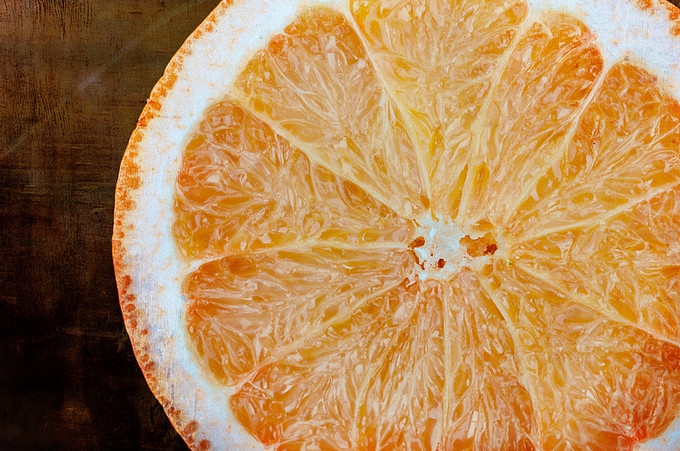 If your shower is over a bathtub then go get yourself a grapefruit! Together with a quarter cup of salt you can give that bath a good clean. Find out more in 17 natural ways to clean your lovely home.
4. Help prevent mildew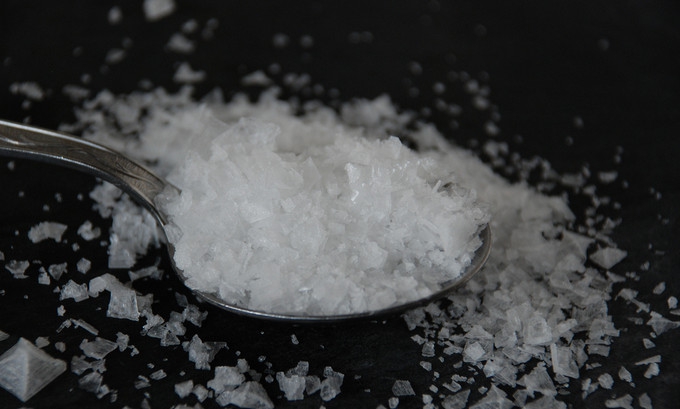 Leave your freshly cleaned shower curtain to soak in a bowl of salt water. This will help prevent mildew from growing. You can do this to new shower curtains too. Every little helps!
5. Make your shower doors shine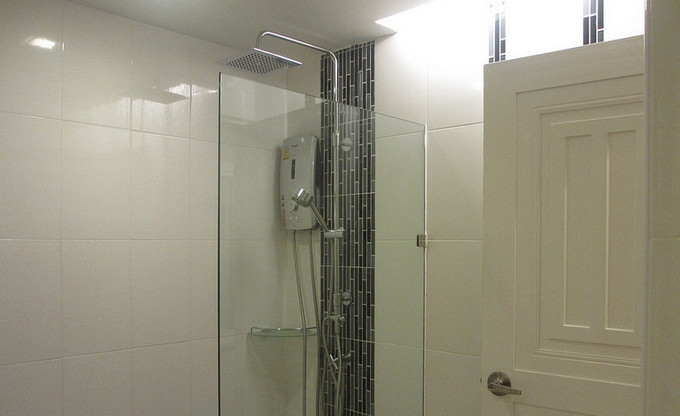 Grab a can of trusty WD-40 and spray it on your shower door. Leave it for 20 minutes then wipe it off with a paper towel to achieve a pretty shine. For more tips like this, visit 40 reasons why WD-40 is amazing.
6. Dish washing sponge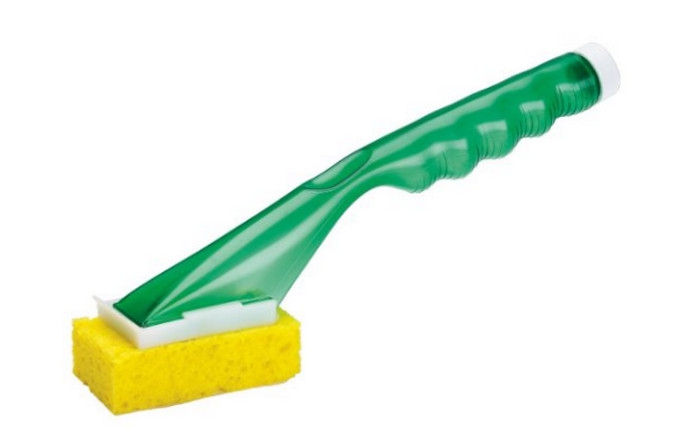 You may have seen these little beauties in kitchens, but they can be used in the shower too. You can pour a cleaning mixture inside (such as the vinegar cleaning solution in point 11) and leave it hanging in the shower. The brush will make light work of shower cleaning! Try this Dishmatic Washing Up brush from Amazon.
7. Shower head in a sandwich bag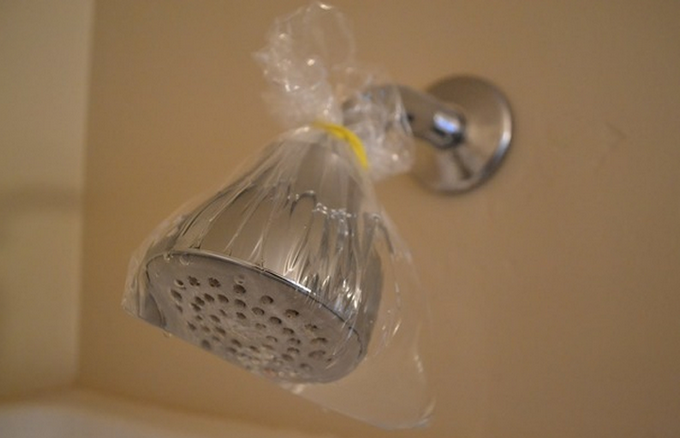 If your shower head is stubborn, grab a sandwich bag and fill it with 2 teaspoons of baking soda, along with half a cup of vinegar. Attach it to your shower head with an elastic band and turn on the water to fill it up a little. Leave it to rest all night and then the shower scum will fall off easily!
8. Get a plug guard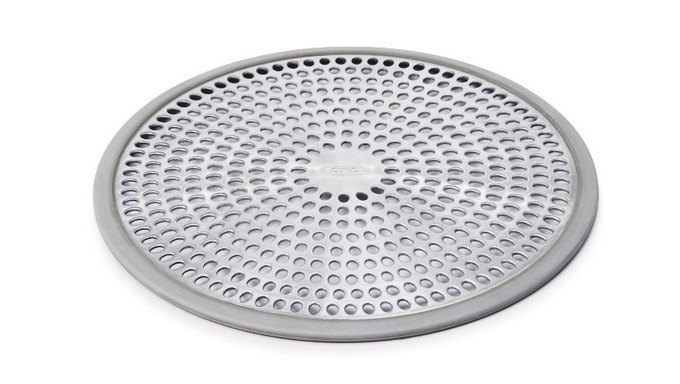 If your hair gets everywhere then get yourself a plug guard. It sits over your shower or bath plug hole and catches all those bits that might clog your drain. You'll be surprised how much it catches and it means you won't have to unblock the drain at a later date.
9. Get a squeegee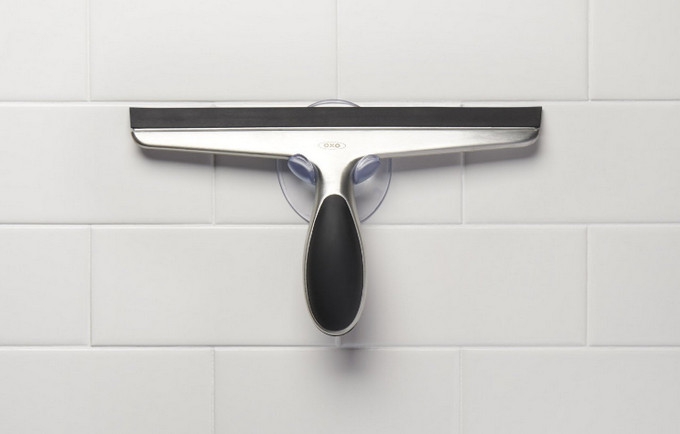 You can buy yourself a squeegee from a local DIY store or Amazon. They're not just for windows and car windshields, you can use them to remove all that excess water from your shower door. The glass will be clear and free of smudges!
10. Install a second curtain rail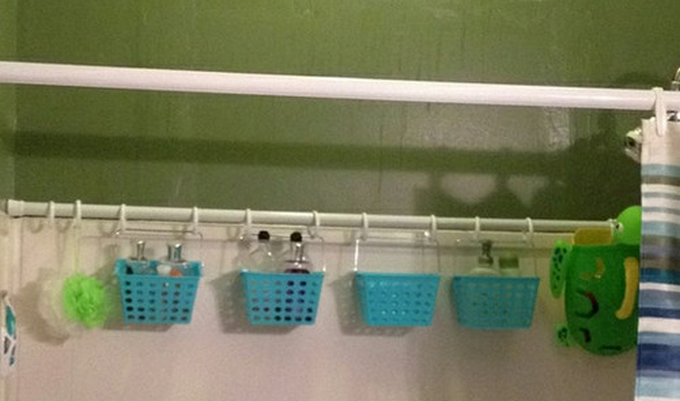 Put up asecond rod underneath your curtain rail and hang up little baskets for all your shampoo and shower gel to sit in. This will help you keep your shower cleaner in future as all your surface areas will be empty. All your bits and bobs will be nicely organised and out of sight!
11. Vinegar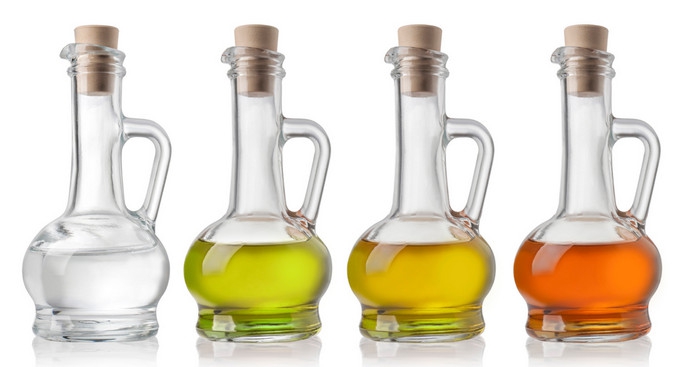 As well as using it to clean your shower head, mix up one part water with one part vinegar, one part water and keep it in a spray bottle in your shower. Use it to remove soap scum from your shower walls. Check out 21 surprising uses for vinegar for more amazing tips.
12. Make chrome fittings shine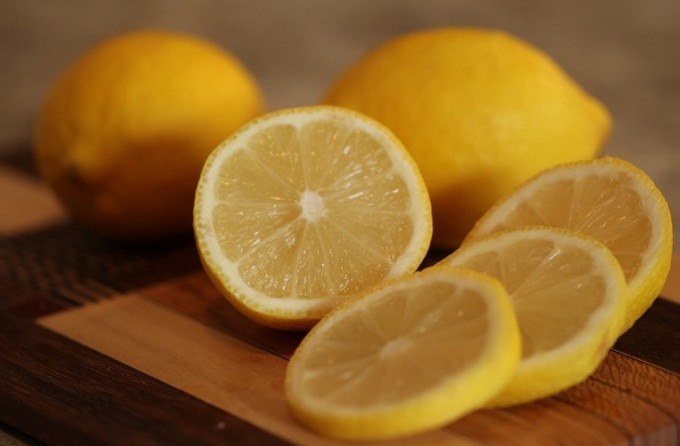 Use a lemon to help make your fittings sparkle! Cut it in half and rub it over, as if you were using a sponge. To finish, rinse with some cold water. For more lemon uses, check out 29 unexpected uses for lemons.
13. Switch the fans on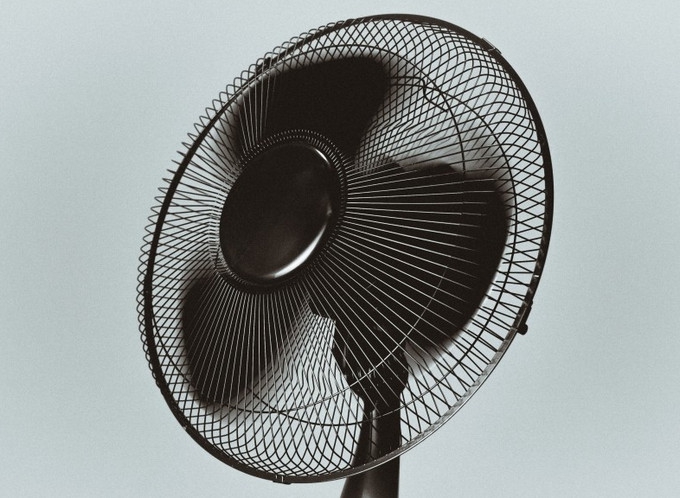 You don't want to have to clean up mould and mildew from your shower. Help prevent this future task by turning on the fan while you are showering or if you don't like that, leave it on for up to 15 minutes afterwards to help dry the room out.
14. Shake it off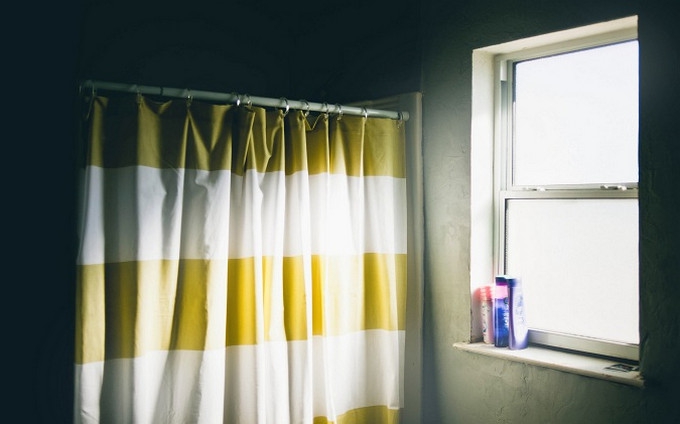 If you have a shower curtain then give it a good shake after you've finished showering to get rid of excess water. It should dry pretty quickly and keep that mould at bay.
15. Steam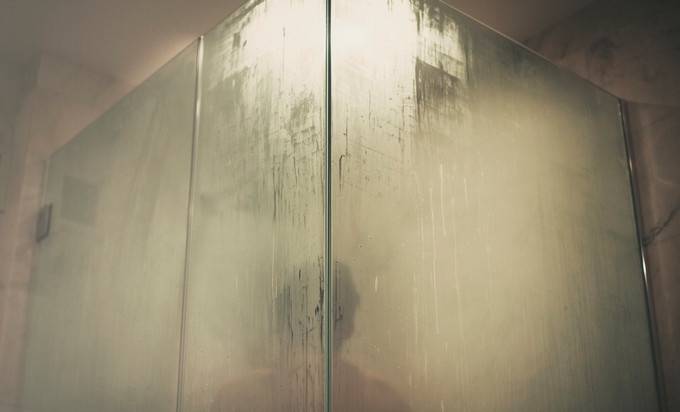 Use the power of steam to loosen all the dirt and grime from inside the shower before you begin cleaning it. You can either clean while you're in the shower, or just after you've finished. Did you know, you can also hang up wrinkled shirts and the steam will help to smooth them out?
16. Trim your curtain liner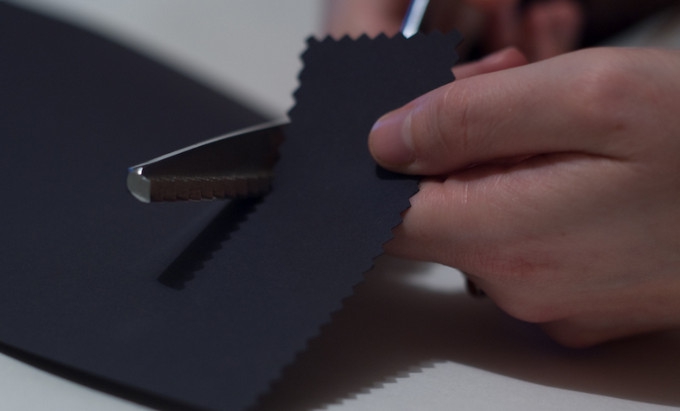 Use a pair of pinking shears to cut the bottom edge of your shower curtain liner. This will reduce the chances of mould and encourage water dropping. What a great tip!
17. Microfibre cloth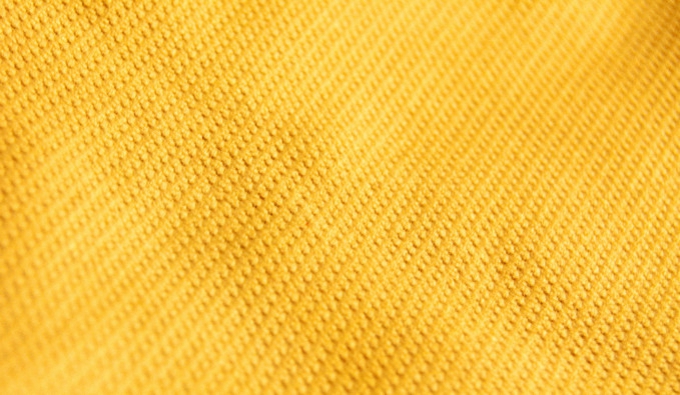 Dry off your shower walls and tub with a trusty microfibre cloth. If it's dry, you won't get any water marks that you'll have to clean at a later date. This won't take you long to do and you'll be pleased with the results.
18. Teach your family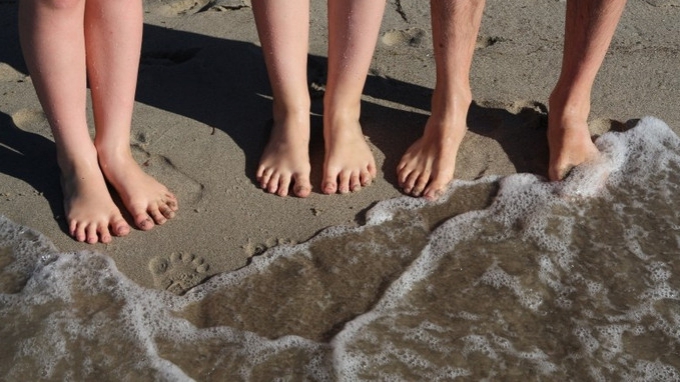 If you share a house with others then make sure they know how to clean the shower too. At the very least, get family members to rinse the shower walls down. The more everyone else does, the less effort it will take to clean!